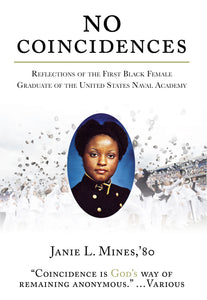 "Coincidences are God's way of remaining anonymous" is a popular quote, but the author dispels this myth of God's anonymity through a series of personal vignettes rooted in the rural South and the U.S. Naval Academy. As the first black woman to enter and graduate from Annapolis, the author confronts issues of race and gender through a faith grounded in the simple premise that "God has a plan for us all; if we submit to His will, we need not fear. We are prepared and protected."
PLEASE NOTE These paperback books will be shipped based on your shipping preferences.  Can't wait? Scroll up to order an eBook or an audio book and download it now.
Bulk-rate Discount Codes: You can use these codes at check-out to receive a discount on your high-volume purchase.
BULKRATE50 (20% discount for an order quantity of 50-99)
BULKRATE100 (35% discount for an order quantity of 100+)